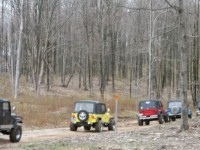 Cadillac Jeepers Sponsored Event: Blessing Of the Jeeps 2004

The trail ride was next. The plan was to head off in several different directions and all meet at Ellen's Corners where the obstacle course had been constructed by the Cadillac Jeepers Club. Some of the jeeps that showed up for the Blessing didn't go on the trail ride so they had enough trail leaders. We ended up with Kenny from the Cadillac Jeepers. We had been on the trails in the area many times,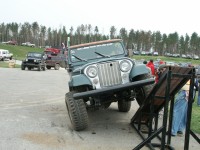 and the trailride was not intended to be an aggressive offroading experience. After arriving at Ellen's Corners, everyone that was interested in participating in the obstacle course paid $10.00 and the fun began. Mike and I walked thru the whole course just to get the feel of it before we ran. First was the RTI ramp. We score much better than we thought we would with a stock cj7, 42%. The tetter totter was next.The only vechicle that did really well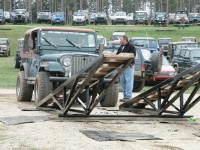 on the tetter totter was a full size suburban. For the next obstacle you had a choice of telephone poles to drive over or smaller logs for the stock vehicles. We walked over the smaller logs quite easily. Then the tire obstacle. As we faced a pile of tractor tires and regular size tires mike looked my way and ask "so what way should I go?" My reply was" right up the middle" and away we went. It happened so quickly. One minute we were pushing tires the next we were facing the sky and slowly rolling to one side. There I was looking out my window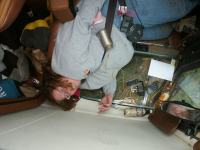 and all I could see was grass. Mike climbed out the top and I handed him my camera and thats when he snapped this picture . I was fine till I smelled gas and couldn't get my seatbelt unfastened. When I finally got loose I walked to the back of the jeep and Mike helped me out the rear window. The first thing I had to say was " Did anyone get a picture?" They had the jeep back on all fours in a second or two. Kenny said he would give up points just for the entertainment... Thanks Kenny. The rest of the track we did take it quite easy. Some moguls and a rock pile and a small mud pit where the last of the obstacles. I think we were the only jeep that rolled that day. Mike had a new nick name..."Flipper" I just figured now that he had rolled the jeep first when I did it he wouldn't be able to say much about it.